Workout savants are a dime a dozen, but few are as hilariously brash as the main figure of BroScienceLife. There, Dom Mazzetti ("The Brofessor," played by co-creator Mike Tornabene) flows seamlessly between quips and reps, tossing out one-liners that toe the line between actual advice and absolute lunacy. An average video can start with how to get your girlfriend to work out with you, before quickly devolving into a self-congratulating flex-fest, complete with gratuitous ego and the most bro-friendly cadence you'll find outside of a frat house.
---
---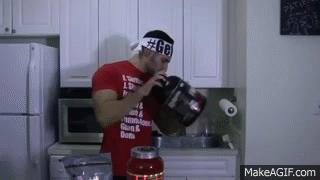 Created by Tornabene and Gian Hunjan, BroScienceLife has grown from workout-friendly vlogging to include lifestyle tips, question-and-answer segments, and a steady stream of product placement for their ever-expanding line of workout tanks and accessories. Tornabene, tongue deeply in cheek, is terrific as Don, swinging wildly from the importance of workout routines to the simple pleasures of checking yourself out in the mirror. His performance is full of inventive energy, whether it's doing form-perfect pull ups or sealing a burn with an impeccably timed pose. Easily a main draw to the channel, his articulation and timing creates jokes out of the most basic workout guidelines and his physicality skewers the catch-all bro we've come to know and avoid.
It's easy to get swept up in Tornabene's performance, but attention should also be called to the simplicity and effectiveness of the form.  With videos clocking in under ten minutes, BroScienceLife is the perfect size for a quick break between sets. Tornabene and Hunjan's writing shines in these constrained parameters, dedicating videos to straightforward subjects like what bodybuilders should shave (and best shaving practices), how to grow your fitness brand, and what CrossFit even is. Don't expect straight answers, however, as the pair relishes in exploiting the how-to video style to hilarious effect. You may just learn something, but laughter is the main goal of BroScienceLife's videos.
Viewers looking for an overarching story may be disappointed, but don't think of this channel as one-and-done. BroScienceLife's deep roster of videos has enough for people to explore many different corners of swole culture, each filmed with the frenetic energy of its hyper-bro host. You may get some tips for your next gym trip, but the real workout comes from the channel's quirky insights and Tornabene's gut-busting performance. Viewers looking for straightforward explainers may be disappointed, but fans of spot-on bro humor are bound to leave sore with laughter.